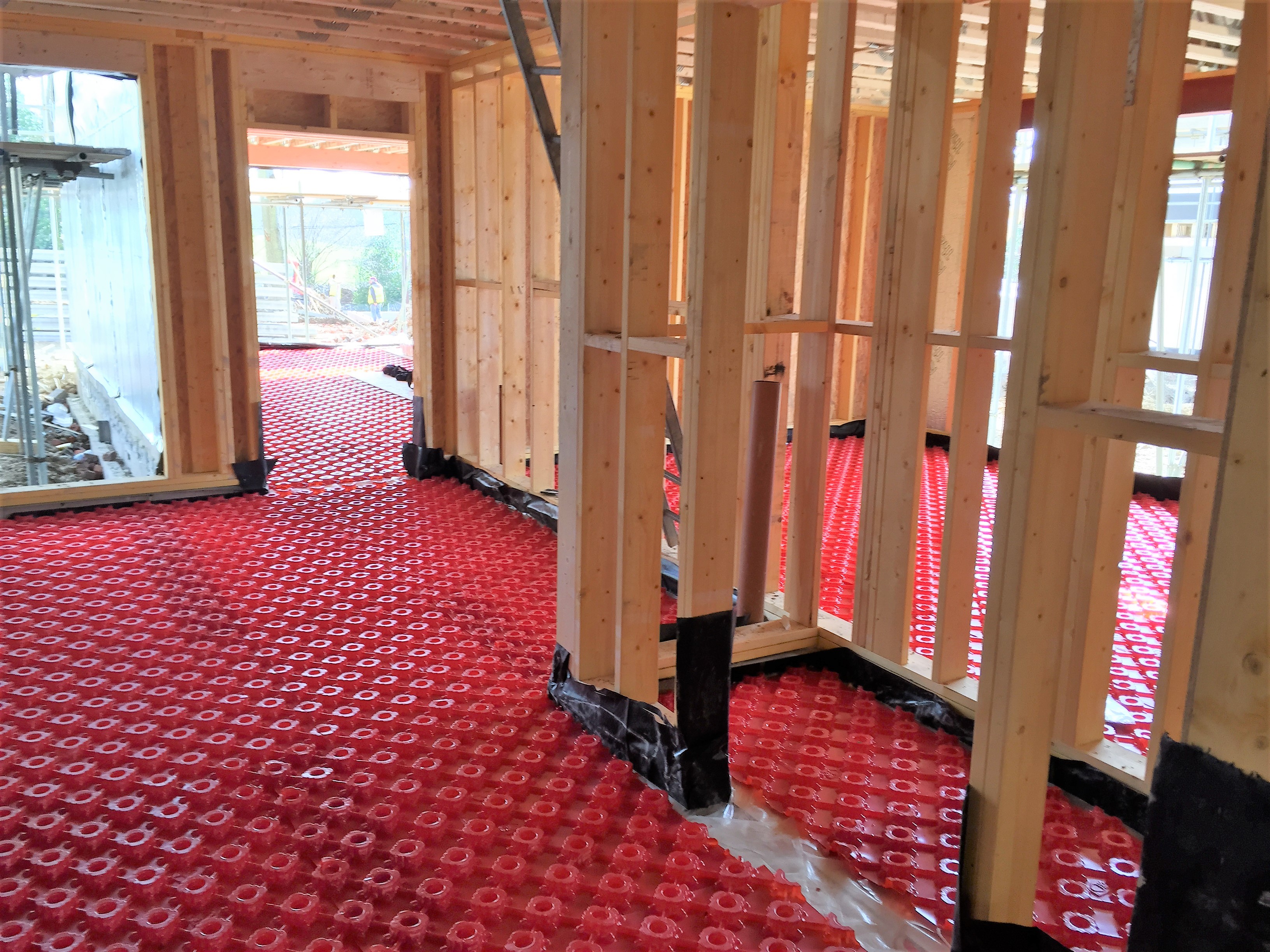 When four new build properties in Horsham, Sussex, required a sophisticated heating system that could deliver comfortable temperatures throughout the home without compromising on style, installer AG Pearce chose underfloor heating experts Polypipe to provide an efficient solution.
The Woodland Park residential development recently added four new build detached properties to the site. Polypipe's Red Panel solid floor system was installed throughout the ground floor in each of the four houses. The Red Panel system provides several benefits to installers, featuring unique castellations which act as a guide to make installation quick and easy, and guarantee the pipe is laid at regular intervals for an even heat distribution. The panels also feature raised sections to lift the pipe up off the insulation and allow the screed to fully envelop the pipe and better transmit the heat into the room. The castellations also reduce the amount of screed required by approximately 15%, saving valuable time and money on the project.
Using the Red Panel system ensures that installers can deliver a heating system that provides a consistent and comfortable temperature throughout the property, while also providing design freedom by removing the need for bulky wall based heating systems like radiators.
On the first floors, Polypipe's OverlayTM Lite system was used. This is the lightweight version of our retrofit OverlayTM system, which is used in conjunction with lightweight floor coverings such as carpet, vinyl and laminate. Measuring just 18mm in depth, the OverlayTM Lite system is installed directly on top of the existing floor, making it the ideal system for upper floors which are not being screeded.
The underfloor heating systems were paired with Polypipe's Smart Plus controls, offering the homeowners complete control over the heating of their home from stylish touchscreen wall-mounted thermostats and away from home using their mobile devices. Available in a range of colours and featuring a host of additional features, the Smart Plus controls offered yet another practical, yet design focused feature to complete these stylish new homes.