This post is a little different as it comes from our 2018 winner, Shaun Scott. As part of his prize for winning the Heating Installer Awards 2018, Shaun was whisked off to Denmark by our sponsor, Danfoss. Here's how he got on…
Ever since winning the Heating Installer Awards last year, I've been looking forward to the prize from Danfoss. The time finally came on 9th October, when I boarded a plane to Aarhus in North Denmark.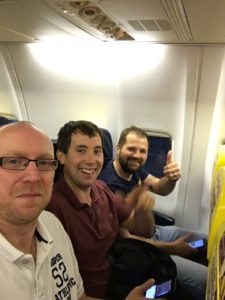 As soon as we landed we headed to Silkeborg to visit the Danfoss factory. At the factory we saw TRVs being produced and packed, ready to be distributed all around  the world! It was great to see the manufacturing process – it was an interesting side to plumbing that I would never have imagined witnessing! After leaving the factory we travelled south for a night in Nordborg, home of Danfoss' headquarters.
The next morning we got up early and went to the Danfoss headquarters, where we were treated to a historical tour of the Danfoss museum. The museum is the original farm house of Danfoss founder Mads Clausen, who founded the company in 1933, in an office above his mum and dad's house. It was amazing to see the transition from a family home to the successful company Danfoss is today.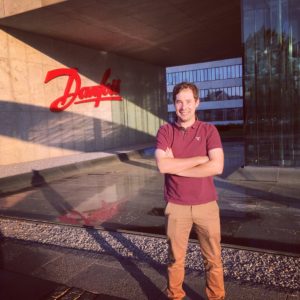 We then headed to the Danfoss owned Science Park, which has been around for over 10 years helping to encourage children and young people to engage in science, technology and entrepreneurship.
After some lovely food and drinks we made the last journey of the trip, south to Hamburg in Germany, before flying home. It was a fantastic trip, we were really well looked after and the whole experience was really incredible from start to finish. When you work with products every day, it's really interesting to see what they do behind the scenes to manufacture and distribute them. It was a side to the industry I definitely wouldn't have had the chance to learn about without the Heating Installer Awards. I'll be disappointed to pass on my crown in May, but I'm excited for the next winner who gets to go on the trip!
So if you want the chance to visit Denmark with Danfoss, make sure you enter the Heating Installer Awards. It was one of the highlights of my career so far and I have the awards and Danfoss to thank for that!