The Heating Installer Awards look to recognise the achievement of plumbers and installers who deliver excellent customer service on a daily basis. As well as recognition, the awards also aim to help heating installers and their businesses, by providing money-can't-buy prizes, raising their profiles and connecting people within the industry.
We recently had a chat with Shaun Scott, Heating Installer Awards winner 2018, to discuss the awards and what they have done for him and his business. Shaun said: "The awards have massively helped the business, particularly from a customer relationship point of view. People know they will get a good quality of work, they trust me and recommend me. I noticeably get a lot more people approaching me, and a lot more enquiries are converting into business."
Helping boost businesses by giving credit to installers that deserve it is what the awards set out to do, and it's great to hear that they are doing that and more for Shaun. We also heard similar feedback from Huw Jenkins, 2018's runner up, Peter Booth, 2017's winner, and many more of our previous winners!
Via the Heating Installer Awards, winners (both national and regional) also have the opportunity to develop close relationships with our sponsors. In return for being great installers, they get the perks of being first to try new products. Commenting on this, Shaun said: "I get companies approaching me to try new products and learn how to use them, and then I pass my knowledge on. It really keeps me at the forefront of the industry, it's really cutting edge."
Need any more convincing? Check out some of Shaun's recent tweets below, explaining what the awards mean to him and what he's been getting up to following his win.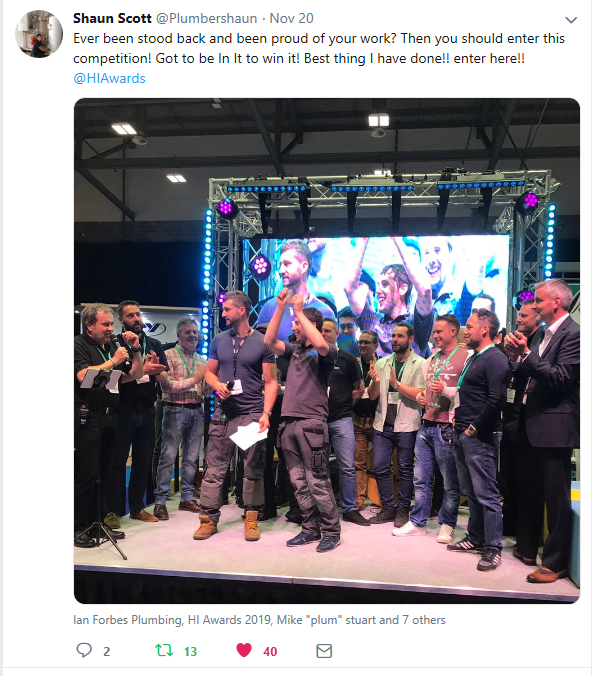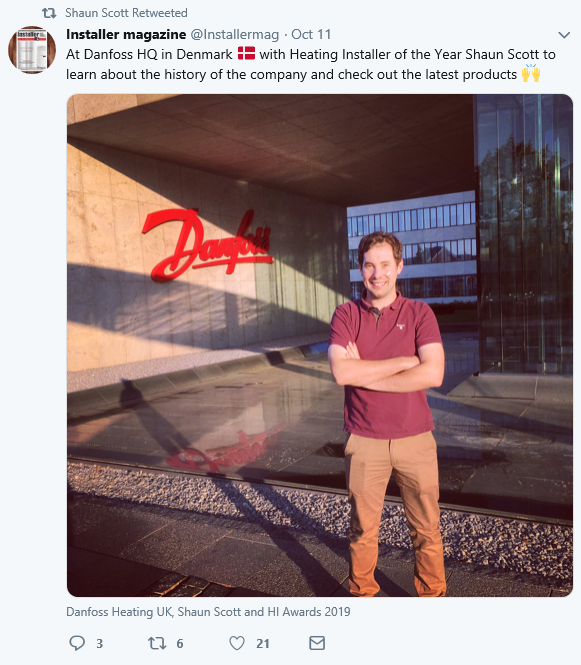 This year's entries are open until 8th February, so if you or someone you know deserves some recognition and all of the above, then let us know or enter directly here! We'd love to hear from you. You can also find us over on Twitter – @HIAwards